We are delighted to share exciting news, Sitepass has maintained the ISO 9001:2015 Quality Management System and ISO 27001:2013 Information Security Management System certifications. This is testament to our dedication to a culture of continuous improvement and driving excellence to go above and beyond for our customers in the service and products we provide.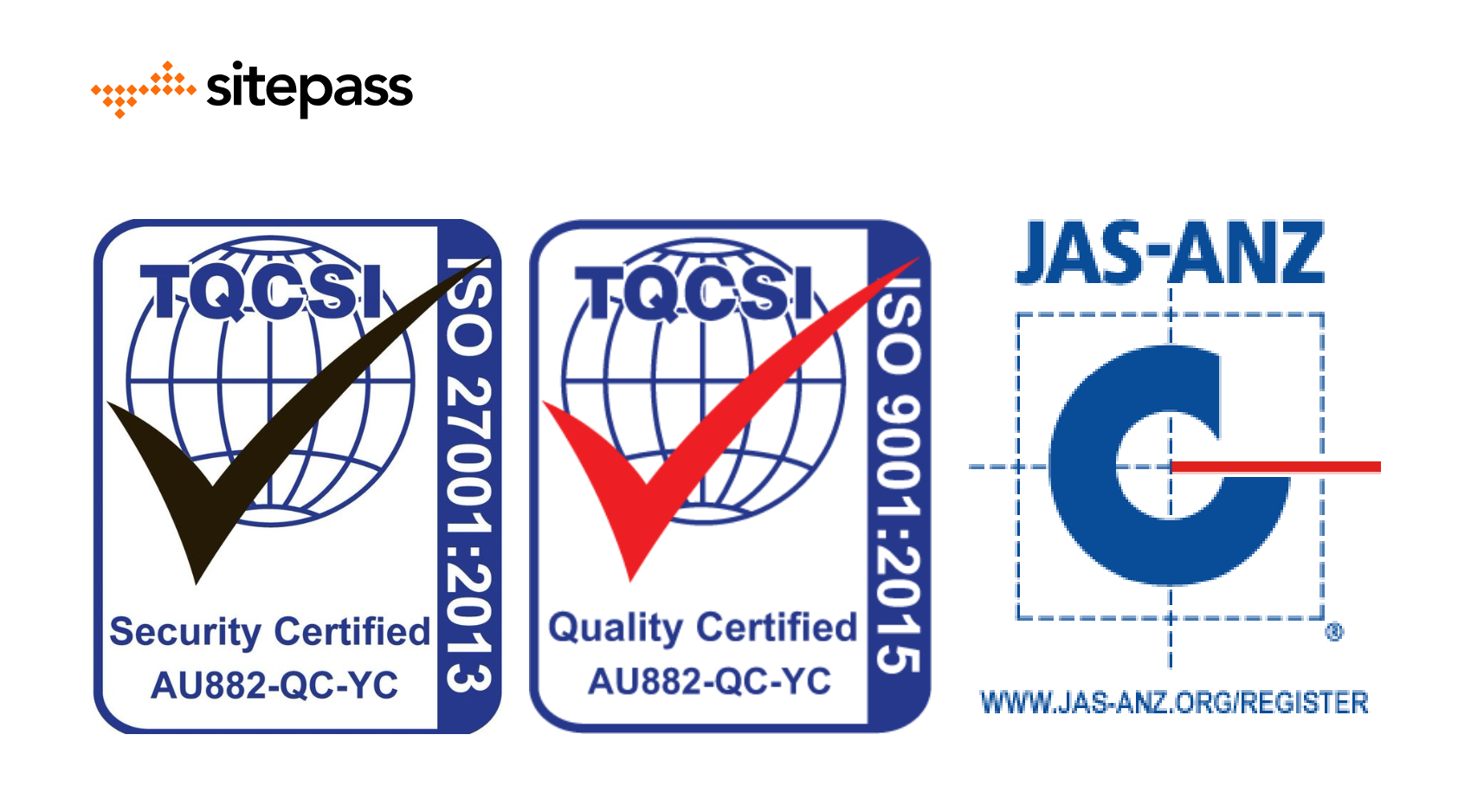 What is ISO certification?
For Sitepass to operate effectively there needs to be checks and balances in place. Otherwise, it would be difficult to maintain consistency and provide high quality products and services for our customers. The ISO standards are internationally agreed standards that provide Sitepass with a framework to build better products, increase quality, improve security, reduce costs and enhance processes.
ISO certification is a seal of approval from a third party body such as TQCS International that Sitepass operates to the international standards developed and published by the International Organization for Standardization (ISO).
What are ISO 9001 and ISO 27001?
Sitepass is certified against ISO 9001 and ISO 27001 as they provide a framework that enables Sitepass to deliver high quality and secure products and services.
ISO 9001 is the international standard that specifies requirements for a quality management system (QMS). ISO 9001 is the most fundamental management system standard and allows organisations to be confident they can expect the same product or service, time and time again, without variation. Moreover, through the continual improvement process, the product or service can only improve. Sitepass uses this standard to demonstrate the ability to consistently provide products and services that meet and exceed our customer requirements.
ISO 27001 is an international standard to manage information security. ISO 27001 for Information Security Management Systems requires organisations to adopt a risk based approach to the security of all information. ISO 27001 is not a prescriptive document, rather it is intended to enable organisations to ensure the security of information through the assessment and treatment of information security risks, documented in a Statement of Applicability. Sitepass uses the standard to put in the systems and processes in place to protect our client and user information and to effectively manage risks to information security.
How is certification achieved?
If an organisation bills themselves as ISO Certified, this means the organisation has met the requirements designated under standard. Organisations are required to setup, implement and follow a system that is both appropriate and effective while also requiring them to identify areas for improvement and take action toward those improvements. As a result, it's typically understood that an organisation claiming ISO certification is an organisation with products and services that meet the requirements of the standard.
To achieve recertification, Sitepass had to undertake internal and external audits, which demonstrated our compliance to the Standards.
Why this benefits our customers
For our Sitepass customers and users, everything we do is underpinned by these standards to ensure we deliver products and services of the highest quality that meet and exceed expectations. Whether it's for the development, maintenance, design, support and hosting of our workforce management software solutions.
These standards provide peace of mind that our processes and systems demonstrate our dedication to our customers, with ongoing commitment to improve our operations and protects the confidentiality, integrity and availability of all information assets company-wide.
Transform your workforce compliance with Sitepass today.
Keeping your people safe just got easier.
Join for Free
See pricing