28 July 2020
Due to the impacts of Covid-19, our customers have requested greater control and visibility in Sitepass to manage the safety of all visitors who enter their site locations. We have addressed these needs by providing significant updates to the Sitepass visitor management solution, which includes the following new features:
Visitor attendance, lists, searches and reports
Ability to invite a visitor to site
Visitor inductions
Mandatory pre-registration for each site
Host approval workflows
Geofence radius configuration
Contactless sign-in with a QR code check-in
Downloadable site QR codes
Remember to subscribe to the release notes so that you can be notified of new releases when they go live.
New features
Visitor attendance searches and reports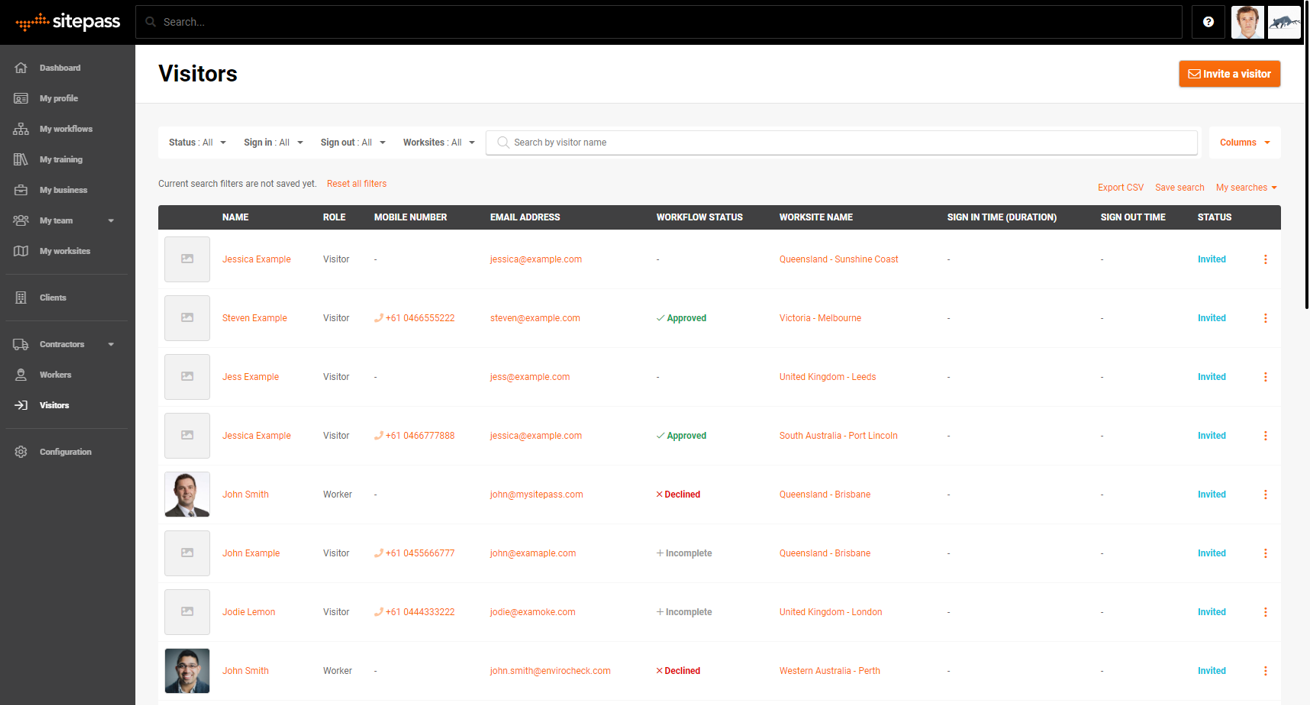 See who is visiting all your worksites today and access your visitor history from the new visitor attendance search pages. Filter your results, export them to CSV, sign out your visitors, save your search results, and access the contact details of each visitor.

The new Visitors page provides a list of every visitor who has been invited to, signed-in to, signed-out of, and been rejected from your worksites. Track the date, time and duration of everyone's attendance, monitor visitor induction records, and use this page to monitor the safety and security of your visitors.
Visitors can be viewed from the Visitor button in the left menu, or from the Visitors menu under each worksite.
Invite your visitors
Use the new Invite feature to send your visitors invitations to pre-register and complete an induction before they enter a site. You can send a personal invitation that specifies the site, date and time you need a visitor on location or use the group invite to allow visitors to self-register when they plan to go to site. For your convenience, you can send an invite via the new Visitors page in the left menu or from each worksite.

Visitor pre-registration and inductions
Sitepass now allows you to invite visitors with ease, and have them pre-register and complete an induction before they arrive on site. Choose the induction training that is assigned to your visitors, and ensure they complete these courses before they are approved to sign in at site. Inductions can be site-specific; you can allocate multiple inductions and training can be completed from a mobile device.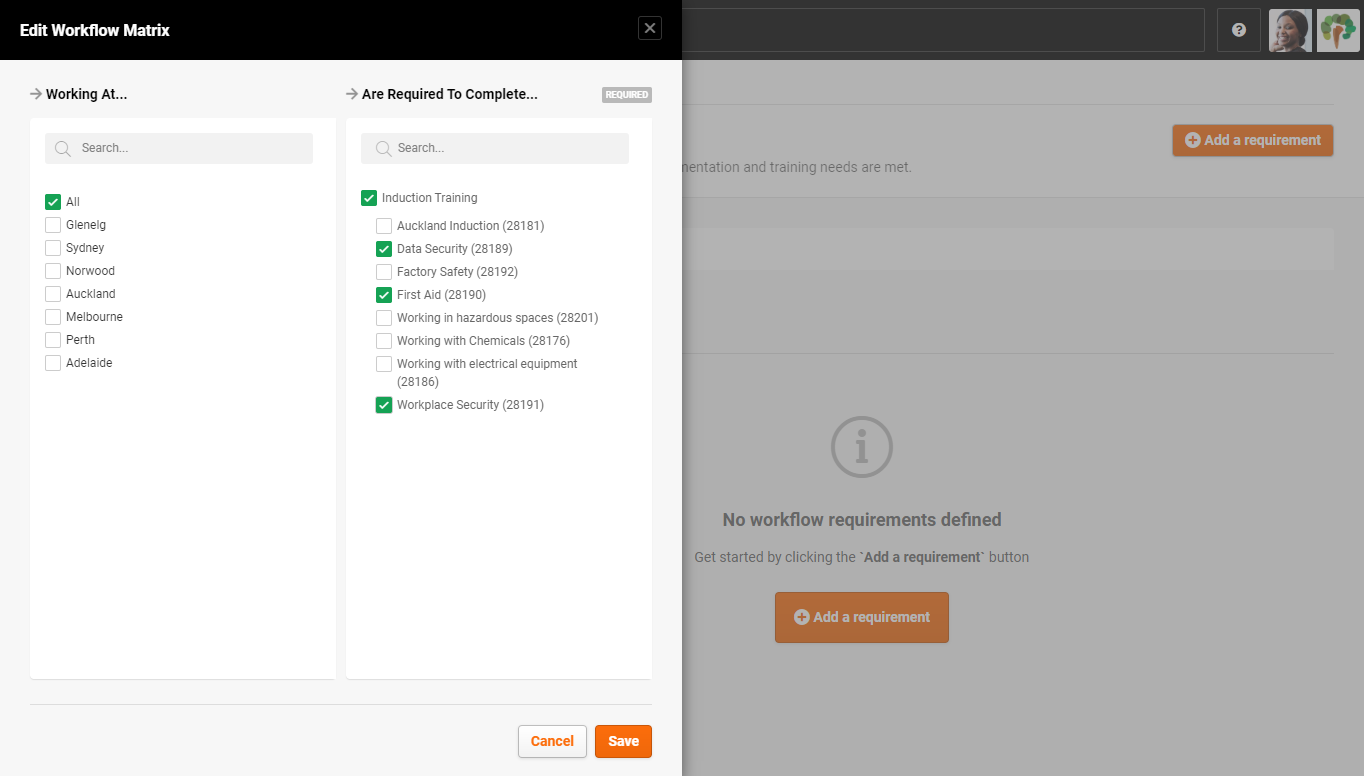 You can make pre-registration mandatory for each site; this is available against each worksite under the Visitor management settings. When this feature is switched on and a visitor signs in on-site, Sitepass checks if the visitor has been pre-registered and inducted. If they haven't, Sitepass rejects the visitor from signing in; it also sends them an email with pre-registration and induction instructions.
The Visitor pre-registration and induction feature gives you the control to ensure that every visitor is properly inducted before entering your locations.
Contactless sign-in with a QR code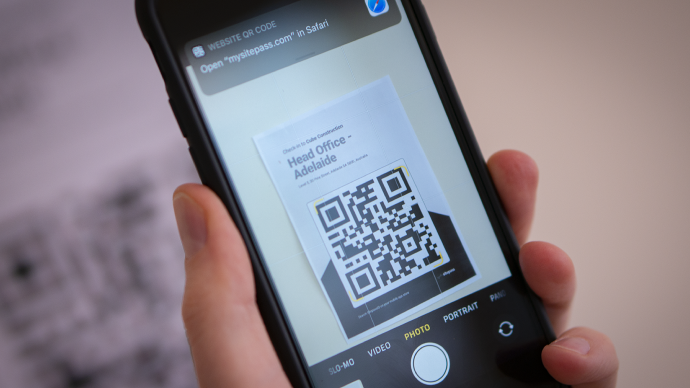 Contactless sign-in to site gives you greater control over the safety of your visitors. In these Covid-19 times, the QR code sign-in removes the need for a pen and paper-based sign-in book or kiosk – your visitors won't be touching the same items and potentially spreading the virus that way.
Your visitors, contractors or employees can sign into the location they are working at by using the site-specific QR barcode and their mobile device.
The new QR sign-in feature provides the following options:
No app needed, just scan a QR code – The new QR sign-in allows visitors to sign-in using their mobile device camera, and do not need to use the mobile application to check in.
Downloadable QR code - You can download a QR code for every worksite. The codes are unique and site-specific. You can print a copy, then display it on-site so that your visitors can use it to sign in and out of your worksite.
Create sign-in forms – Using the new worksite forms feature, you can assign forms for those signing in via a QR code. You can create a survey and capture information about each visitor or provide information and images about the site.
Set sign-in times – Restrict when someone can sign into site by setting the site's open and close times.
Host approvals workflows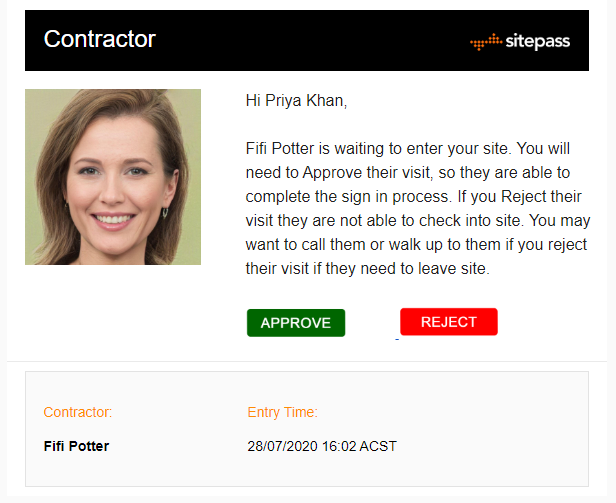 When a visitor or contractor signs in at a site, they are required to select their host; this is the person they are there to see. You can enable this feature against each worksite. Host approval allows an email to be sent to the selected host, which requires them to approve or decline the visitor. Sites with high-risk work, sites where you need to monitor access, or sites that are unmanned benefit from host approval as it provides the host with the authority to control who is entering your location.
Set your geofence requirements for each site

You can ensure that a geofence is used when a visitor signs in to your site from the Sitepass mobile application or via the QR code. A geofence requires the individual to have location services enabled on their mobile device and only allows a visitor or contractor to sign in if they are within the set geofence radius.

As part of this release, you can enable the geofence for a site and set the size of the geofence radius. Setting the radius allows you to align the radius to the site of the location.
Improvements
Visitor management settings moved to a new location
We've focused on making it easier for you to individualise the Visitor management setup of your worksites. As such, we've moved the Visitor management settings from Configuration and placed them against each of your worksites.
See the full picture. Reduce business risk.
Keeping your people safe just got easier.
Join for free